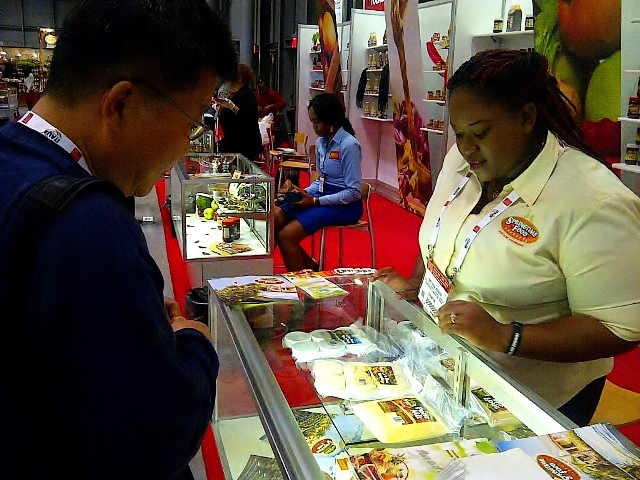 A Taste of Tobago at Summer Fancy Food Show – New York
Tobago producers are showcasing the island's cuisine at the 61st annual Fancy Food Show, in New York City. The event hosted by the Specialty Food Association is considered one of the largest specialty food and beverage events in the United States. Nearly 200,000 products including confections, cheese, coffee, snacks and spices are on show. Five (5) clients of the Business Development Unit (BDU) were sponsored by Tobago House of Assembly's Finance and Enterprise Development Division. This is second year the Tobago House of Assembly is collaborating with ExporTT and the Ministry of Trade, Industry, Investment, and Communications to ensure Tobago businesses are represented. This year, Cheryl-Ann Lee Yuen (Simply Delightful), Renessia George (Flavour Me Rite), Charmine Springer (Springtime Food Products), Giselle Johnny (Caribbean Exotique/JusRite Creations) and Darilyn Smart (Smart Foods Caribbean) complete the delegation.
The respective agro processing entrepreneurs have chosen to promote a unique blend of jams, jellies, pepper sauce, bay leaf powder, ready to bake pone mix and other condiments. At the event, business persons will have an opportunity to network and explore new opportunities, innovations and markets in as many as fifty (50) countries. Members of the BDU's Strategic Business Development department have accompanied the participants. Some duties the department fulfils include co-ordinating with various sectors to encourage networking and linkages, identifying the developmental needs of Tobago's business sectors and helping Micro and Small Enterprises identify regional and international markets for export. This is done in an effort to help foster successful business enterprises in Tobago. The team returns to Tobago on Thursday 2nd July 2015.